Laptop computers have become an indispensable component of our daily lives in the digital age. We rely significantly on our laptops for work, school, and amusement. Laptops, like any other electrical item, can have difficulties and malfunctions. When this happens, having a dependable and trustworthy laptop repair service in Las Vegas is critical.
What to Look for in a Las Vegas Laptop Repair Service
When it comes to laptop repair services in Las Vegas, it is critical to select a recognized and trustworthy company. Here are some things to think about when looking for a laptop repair service:
Expertise: The first thing you should think about is the repair service's skill. Look for a service provider that has skilled technicians that are educated about the various kinds and brands of laptops.
Customer service: Customer service quality is also important. You want a service provider who will listen to your worries, answer your inquiries, and provide you with timely updates on the status of your laptop's repair.
Warranty: A reputable laptop repair business will provide a warranty on their work. Inquire about their warranty policy and the length of time it is valid.
Affordability: While you don't want to sacrifice quality for price, it's critical to select a supplier with reasonable pricing. Search for a service provider with transparent pricing and no hidden fees.
Common Laptop Issues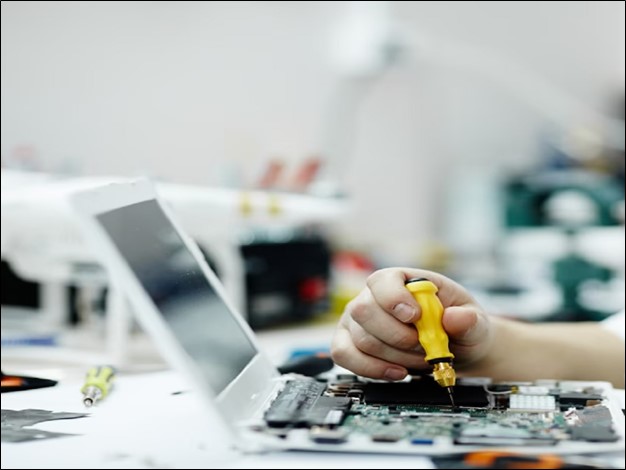 Laptops can develop a number of issues, some of which can be resolved easily, while others may necessitate expensive repair work. Here are some examples of frequent laptop issues:
Poor performance: If your laptop is performing slower than usual, it could be due to a number of factors, including outdated software, insufficient RAM, or a hard disk that has reached capacity.
Overheating: Overheating is a typical issue in computers, particularly those used for lengthy periods of time. Overheating your laptop might cause it to shut down, damage its internal components, and shorten its lifespan.
Cracked screen: A broken screen is a typical issue in laptops, particularly when they are dropped or abused. A broken screen can make using your laptop difficult and may necessitate screen replacement.
Virus: Virus and malware infestations can cause your laptop to slow down, cause data loss, and threaten your privacy and security.
Battery problems: If your laptop's battery isn't retaining a charge or is draining quickly, it could be due to a malfunctioning battery or a problem with the power management settings on your laptop.
Ways for Keeping Your Laptop in Good Shape
When it comes to laptop repair, prevention is always preferable to cure. Here are some suggestions for keeping your laptop in good shape and avoiding problems:
Keep it clean: Dust and grime can accumulate in the vents and fans of your laptop, creating overheating and performance concerns. Clean your laptop on a regular basis with a gentle brush or compressed air.
Keep your software up to date: Make sure your laptop's operating system, antivirus software, and other apps are all up to current. This will keep your laptop running smoothly and safe from security threats.
Keep it cool: Consider utilizing a cooling pad if you use your laptop for extended periods of time. A cooling pad can assist in dissipating heat and preventing overheating.
Employ a surge protector: Electricity surges can damage the internal components of your laptop. To safeguard your laptop from power surges and outages, use a surge protector.
Bottom Line
EMS Mobile Computer Services is a reputable laptop repair company in Las Vegas. They provide trusted and economical laptop repair services to satisfy all of your needs, backed by years of experience and a team of skilled specialists. They provide a variety of repair services, such as screen replacements, virus removal, and battery replacements, among others. To ensure your satisfaction, their team is dedicated to providing great customer service, and they give a warranty on their repair work. Call right away to arrange an appointment and have the experts at EMS Mobile Computer Services repair your laptop.