Las Vegas being the hub of technology thrives in innovation and offers the best service. With the masses relying on technology for their work, entertainment, tourism and communication the need for best computer repair services is essential in Las Vegas. But, with a variety of services available finding the best one can be challenging. Read below to go through some tips that can help you choose the best computer repair services in Las Vegas.
Research
Make sure you do a complete market research to have an in-depth idea about the services available in the market. A thorough research of the computer repair market in Las Vegas would solve half of your problem to pick the best service provider. Look for the ones with proven track records and good reviews. Word of mouth can be the best advice when it comes to buying services.
Experience
Look for a computer repair service in Las Vegas that has a team of experienced and professional technicians. A professionally trained team of experts can help you diagnose the problem easily and fix it without any hassle.
Transparency
Always search for the computer repair service in Las Vegas that is transparent and does not have any shady loopholes. Transparent services make the service center a reliable option and you can trust them with the cruical parts of your laptop.
Pricing
Pricing is not the only important factor but surely one of the most important factors when it comes to computer repair in Las Vegas. Make sure your service provider gives you an accurate estimate and does not charge you any hidden fee for the repair.
Customer Service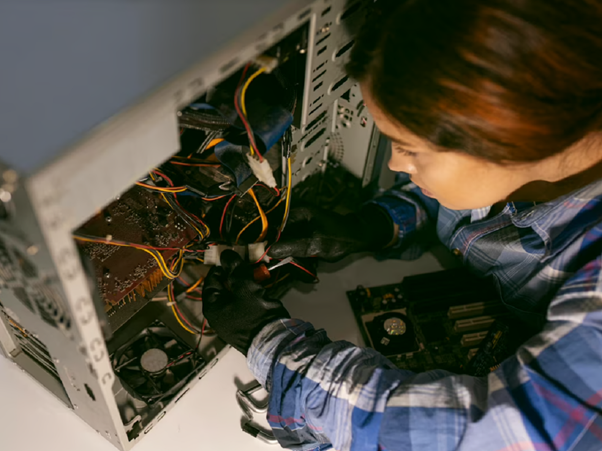 Exceptional customer service is vital for every business and the same is the case with the computer repair industry. Go for the service provider that offers good customer service and is responsive towards questions and queries. Good communication solves half of the problems with your computer to receive a good diagnosis. A reliable service provider with good customer service will save you from hassles.
Certifications and Accreditations
Always consider the computer repair service in Las Vegas that has certifications from a reliable institution. Accreditation and certification from recognized institutions vouch for the best quality services.
Recommendations
Never stay back from taking recommendations from people around you. Word of mouth can be the most reliable factor to choose your computer repair service. Recommendations from your inner circle can provide insight helping you choose a reliable service provider.
Range Of Services
Always opt for the service provider that offers a wide range of services. Search for repair services that offer hardware repairs, software troubleshooting, virus removal, data recovery, and more. A one stop solution can help you solve all your problems at one place.
In conclusion, always do your research before finalizing a computer repair service in Las Vegas. A good repair service center has all the qualities that will attract you toward its services making your repair hassle free.