Do you need to use your computer for your regular business needs? Do you like to play computer games very often? But what happens when you find your computer not working properly? A laptop or computer may have different software and hardware problems. In this scenario, you have some options for restoring your PC-
DIY repair
Hiring a professional
Without solid computer knowledge and skills, you cannot identify problems with your computer. That is why you can go for the second option for repairing your computer. However, how will you choose the most reliable computer repair shop in your locality?
Best Computer Repair Shop
Find a local trustworthy PC repair service provider–
It is easy to obtain information about a local shop for computer repair services. You can directly visit the store and talk to technicians to know whether they are professional. You should also learn about their efficiencies and the type of services they provide. If it is a local company, you can easily analyze its popularity in the town. The best shops with a large number of technicians handle several computer repair projects at a time.
Know about the services provided by technicians–
Most reputed computer repair shop in Las Vegas offers a comprehensive solution to laptop and PC owners. They help you in every way ranging from simple troubleshooting to hardware replacement. Other than repair services, technicians provide other solutions like
OS reinstallation/installation
Malware/virus removal
Data migration/data transfer
Software and hardware installation
Data recovery and backups
So, you should know about the expertise of computer technicians before hiring them.
Check credentials of the PC repair shop–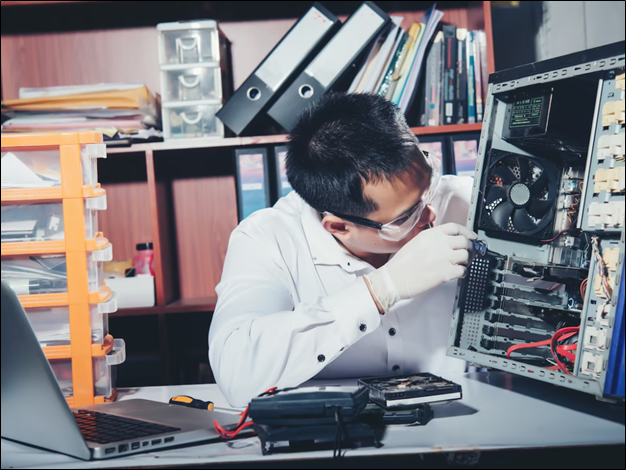 Another significant step is to check the credentials (like insurance and license) of your PC repair shop. If it is a licensed computer repair business, you can hand over your device without concerns. Reliable shops have liability insurance to manage any accidents related to computers or laptops. Moreover, the license proves that the company provides legitimate services.
Ask questions about the guarantee–
When you purchase a new computer, it comes with a guarantee. Similarly, while buying computer repair services, the specialist should provide a guarantee. It is one of the easiest ways to differentiate good technicians from unreliable and inexperienced ones.
The repair shop should also provide a data protection guarantee. While repairing your PC, technicians should not leak important data.
Compare the rates
Technicians always decide on the charge depending on the type of services you have bought. Minor repair can be done at an affordable rate. Indeed, some specialists may overcharge. However, quality repair services are not always cheap. So, compare the charges and service standards of computer technicians. Some professionals will charge you on an hourly basis.
Check customer satisfaction–
You should not make a decision only by seeing the ad for a computer repair in Las Vegas. The ads may fool you with alluring words. That is why you should check reviews and ratings of genuine customers. These are some tips on how to select the best computer repair store in your locality.